Our sense of community is hugely important to us and I am proud of our exemplary pastoral care, which is led by committed staff dedicated to their pupils' well-being and achievement. We take care to get to know our pupils well and to understand how best to enable each individual child to flourish.
Pupils find many opportunities here to explore their intellectual curiosity and lessons at Bolton School are designed to stimulate and challenge, often exploring topics and ideas well beyond the scope of the curriculum. Whilst our impressive academic results speak for themselves, we seek to equip our pupils with far more than just the ability to excel in exams; they learn how to form constructive arguments, solve problems logically and present their ideas confidently.
Leadership opportunities are plentiful and there is a great desire to help others, as demonstrated by the vast amount of volunteering the pupils undertake in a range of different areas. Our pupils delight in challenge of any kind, whether it is learning to play a new instrument or sport or participating in an exciting expedition. There is also a huge variety of clubs and societies to choose from, and pupils are encouraged to make the most of opportunities to further explore subjects they are particularly interested in as well as to try something new. Whether it be sport, music, drama, school trips or a host of other academic and extra-curricular activities, there is something to appeal to everybody. We strongly believe that the skills our pupils acquire in these areas of school life are as important to their development as those they learn in the classroom.
On leaving at the end of Year 13, pupils automatically become members of the Bolton School Alumni Network, through which they will be able to make contacts in their chosen field. Members of the Alumni Network regularly come into school to share their experiences and to offer advice about the ever-changing world of work, and many pupils attain work experience or employment through other "Old Girls".
I hope this gives you a flavour of what life is like at Bolton School, but to get a true sense of what we offer, please do come for a visit. I look forward to meeting you and to answering any questions you might have.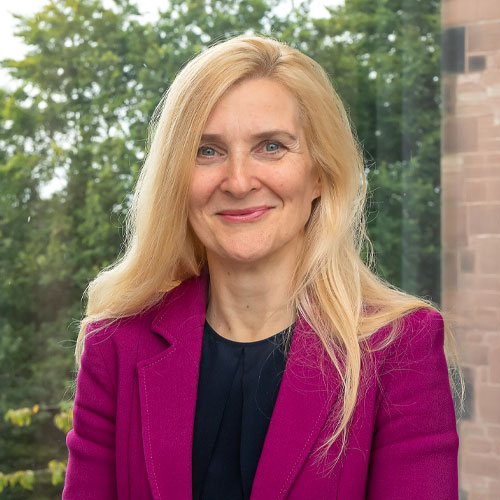 Mrs Lynne Kyle
Head of Girls' Division
The Girls' Division is a GSA school.
Information for Parents | PDF | 349KB
Testimonials
I can't quite believe that my time at Bolton School Girls' Division is already over. I may have "only" been here for seven years (practically just a passing visit compared to those who joined at four years old!) but there is absolutely no doubt that I am going to miss it so very much. I have only been away from school for a week and already I am missing everything, from the coach journey, to the atmosphere in the Common Room to trooping down to "Big Dinner" (as it is affectionately known by sixth formers), en masse, scaring the year 7s by the unnecessarily excited talk about what food is waiting! Hopefully though, I can walk through Centre Arch, knowing that I have made the most of as many opportunities as possible.
I came to Bolton as a shy 11 year old who had no confidence to speak of but, somewhere through Middle School, with the new experiences and friends that it brought, I abandoned those characteristics, a development only furthered by GCSEs because of how busy I was, both with the obviously gruelling stresses of external exams and coursework but also with my extra-curricular activities. Somewhere between Spanish exchanges, Young Enterprise schemes, Duke of Edinburgh awards and School Council, I think it really became clear how much I loved every second of school life, perhaps quite an achievement remembering the intense work-load and pressures of doing 10 subjects!
My two years of my GCSE courses were certainly hectic but, with the confidence-boost of results day, Sixth Form quickly proved to be similarly busy! Sixth form was easily the two best years of my life and the feeling of a "school community" became even more enhanced; the "family feel" is often mentioned when talking about School and although the phrase is used so much, I don't think that there is any other way to encapsulate the feeling of belonging in school life.
Being voted as Head Girl is definitely something that I will always be proud of and I have genuinely enjoyed working with different members of staff and pupils in what has quite simply been the best last year imaginable. With a group of prefects who were always happy to help me, whatever task or hair-brain scheme I had in mind (and let's face it, there were a few bizarre ones!), I have quite literally thrived off every challenge. I don't think I can go without mentioning the genuine delight I felt every time anyone (parent, teacher or visitor) complimented the prefect team; they made all of the meetings, the tasks and the responsibilities so much fun and I think it is fair to say that I couldn't have asked for a better team!
I know that the prefects play an important role in many of the events that go on around school throughout the year but the teachers too have been an enormous help, providing advice, support and a sea of friendly faces. I would like to give a personal thank you to all of the staff who have been amazing and will undoubtedly be sorely missed.
Jessica Smith
To choose Bolton School for your daughter will not only change her life, but yours too. Your hopes and expectations for your daughter will grow beyond belief.
You will see that you have chosen a school that will encourage your daughter to take in all that is the best and in return give of her best. She will be offered outstanding opportunities and in return show you that she can achieve what you maybe once thought was unimaginable for her.
You will see you daughter grow and develop in ways that, as a parent, you probably thought were impossible. She will become, over time, an eloquent, thoughtful young lady who can see others' points of view, accept what she does not always understand and see the importance of returning to society what she has been fortunate enough to take out. She will be a true product of Bolton School, socially aware, just as Lord Leverhulme envisaged.
She will take part in outward-bound trips where she will gorge walk, orienteer, abseil and kayak. She will suddenly be able to bake cakes and sell sweets for charity. Even more, she will willingly dress all in red, green, black or blue for the sake of those far less fortunate than herself.
Our daughters first pass through that awe-inspiring arch and enter those wonderful buildings, full of trepidation, anxiety and shyness, maybe, their regulation skirts below their knees and bags across their shoulders.
They finally stride out of that still awe-inspiring arch, highly capable and full of confidence, dressed in their own individual styles, jeans, multi coloured tee-shirts and gloriously patterned scarves, each ready to face the world with compassion, philanthropy and integrity.
They, and you, will be safe in the knowledge that they have achieved of their best. Bolton School will not just have changed your daughter's life but will have changed her, too.
I recently read that a pupil had written in a letter, "Bolton School has made me what I will become". I could not agree with these sentiments more, Bolton School is concerned with so much more than academia, it produces well rounded young people who have much to give back to society in so many ways. It provides a truly holistic approach; a Bolton School education for your daughter will not disappoint you or your daughter.
Please take some time to join us on our Open Day or on a private tour so that you can see and hear for yourselves just what we have to offer you and your daughter.
Laura Henthorn
---
By sending my three daughters to Bolton School Girls' Division, I have watched them grow and flourish in ways that I had never imagined and I believe this is down in no small part to their receiving a girls-only education. Without the possible distraction of boys in the classroom they have become confident in their own skills, abilities and judgement, they question and enquire and seek to develop a thorough understanding of their subject. They are eloquent and thoughtful young ladies. I have watched them and their friends excel in courses and extra-curricular activities which in mixed sex settings might tend to be considered to be the preserve of boys. These activities, including outward bound trips, working in the local community, participating in workshops, focus days and a variety of foreign travel opportunities, have seen them develop their leadership and team-working skills and create a positive approach to their own individual potential.
All that said, girls in girls' schools are not completely separated from boys and nor should they be. At Bolton School, the Boys' Division is just across the courtyard, the young men there also benefit from a single sex education. However, there are regular collaborations both socially and educationally. There are joint projects across many areas of the school, in Performing Arts, Science and Business to name but a few.
My daughters will leave this all-girls' school and go out into the wider world with high aspirations and full of confidence, ready to face their future with compassion, philanthropy and integrity.
---