---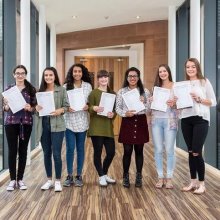 January 19th 2017
The Department for Education (DfE) has today released its annual league table of schools based on the performance of their pupils who took GCSEs last summer.
Once again, Bolton School Girls' Division has ranked very highly across the country. The tables this year are based on the percentage of pupils achieving at least 5 C grades or better at GCSE, including English and Maths. The Girls' Division has placed in the top 100 schools, independent and state, nationally. The School is ranked as the 18th best performing independent school in the country by this measure. The DfE also compares how schools have fared by English Baccalaureate (EBacc) results and Bolton School Girls' Division is the best performing independent school in the north of England by this measure, with 90% of pupils attaining the qualification. It is the 4th best performing independent school in the country by this ranking with two schools above it in the table only having 13 pupils who took GCSEs last summer (by comparison, the Girls' Division had 110 pupils). An EBacc is awarded when pupils have secured a grade C or better across core academic subjects including Maths, English, Geography or History, the Sciences and a language. Across the country, 24.3% of pupils achieved the EBacc. You can view a league table of the top 100 schools here.
Headmistress, Sue Hincks, commented: "I am delighted that the girls' outstanding GCSE results have once again put the Girls' Division at the top of the league tables – this position is a reward for all their hard work and the dedication of their teachers. Many girls have also achieved the EBacc, which recognises the academic quality and range of subjects which they studied. It is a pleasure to work with such talented students and we as staff do our utmost to bring out the best in every girl, both academically and through a tremendous number of extra-curricular and enrichment activities."
Next year onwards will see schools measured on what is known as "Progress 8" which assesses the progress pupils make between Key Stage 2 tests taken at the end of primary school and their performance in a specified mixture of eight subjects at the end of secondary school.
Once again this year, Bolton School Boys' Division was not included in the rankings because some of its IGCSE qualifications are not recognised in the league tables.
---
---
You may also be interested in...