---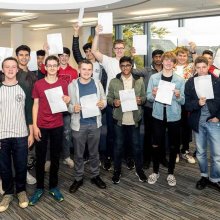 August 22nd 2019
Pupils in Bolton School Boys' Division have, once again, been celebrating an excellent crop of GCSE results. 97% of grades were in the 9-4 (A*-C) category, up from 95.6% the previous year and at the highest level in recent years. Similar to last year, the new 9-1 grading system did not present any issues for boys as 33% of papers were graded at least 8 or A* and 75.3% were graded at least 6 or B.
The percentage of boys achieving ten 9-7 (A*-A) grades was at the highest rate in recent years at 21.5%, up from 18% the previous year. Eleven boys achieved 10 or more A*/9-8 grades and a further six collected 9 or more A* or 9-8 grades. 70.7% of boys achieved at least ten 9-4 or A*-C grades.
99.2% of boys achieved at least five 9-4 (A*-C) grades, the highest amount in recent years and above the school's five-year average of 98.6%. The percentage of boys with five 9-6 grades (A*-B) was also up on last year to 83% from 76.4%.
This year's Y11 pupils enjoyed much success in STEM subjects with 26.9% of Maths grades, 19.6% of Physics grades, 17.9% of Chemistry grades and 17% of Biology grades all being at the elite 9 grade. 16.2% of DTE grades and 15.4% of Electronics grades were also at 9. There was much to celebrate in Humanities subjects too with 24.7% of History marks, 23.5% of Music grades, 37.5% of all Latin grades and 50% of Greek grades also being 9s. Many boys achieved highly whilst juggling other commitments, Thomas Yates, Daniel Bentham and Tom Simpson all played international water polo and achieved highly. Eleven boys achieved ten or more 9/8 or A* grades and a further six had nine or more 9/8 or A* grades. Thomas Britton and Thomas Higham both achieved nine 9s (only 837 pupils across the country achieved this) and Jude Ashcroft secured an amazing 14 GCSEs, all graded at 9/8 or A*.
Headmaster Mr Philip Britton said: "As the system moves to numbered grades throughout I am very pleased to see our results are consistent with previous years, with one third of all results at grades 9 and 8. Two boys have nine grade 9 passes, while a dozen have more than half their grades at that elite level. That we can inspire able boys to achieve excellent results is part of what we do well here.
Another part is producing well rounded young men, who pursue wide ranging interests. Among the exam results today are those who have represented their country at sport, who have represented the school nationally in debating, who have taken part in drama inside and outside school and who excel in playing musical instruments, in formal orchestras and in bands outside school. They are interesting, able and engaged people and I look forward to the contribution they will make in sixth form.
"Stand out results for departments this year include maths and science, but also history, which had a large entry of which more than 1 in 4 results were at grade 9. This is exceptional. The classical subjects also thrive, with 70% of results across Classical Civilisation, Latin and Greek being at grade 9-7.
"This is the first set of exam results since we re-branded our product design to be Design Technology Engineering Department. Creative design, focused on practical solutions and attractive to the most able, is crucial to the future. In this department 60% of grades were at 9-7."
---
---
You may also be interested in...