---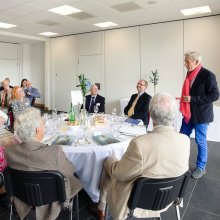 May 24th 2019
Bolton School Boys' Division was delighted to welcome Sir Ian McKellen, a former pupil, on his 80th birthday weekend. Taking time out of his national tour, he began his busy day with a lunchtime reunion of former classmates (Sir Ian left as Captain of the School in 1958), which saw him address the audience and cut his birthday cake before the singing of 'Happy Birthday'. Moments later and he was performing an abridged version of his 'show' in the Great Hall in front of 600 Y7-10 pupils, former pupils and staff.
Walking down the centre aisle and ending up on stage, Sir Ian opened with a reading from Lord of the Rings. Two boys then found themselves sharing the stage with Sir Ian, holding Glamdring, Gandalf's actual sword and were thrilled to get a 'selfie' with him wearing the Gandalf hat!
Sir Ian told of his love of pantomime and he reprised his Widow Twankey role which involved throwing sweets, oranges and bananas into the audience. In a performance in which he narrated and acted, he revisited early memories, aged 3, of seeing Peter Pan at the Palace Theatre in Manchester and he recalled the three Bolton theatres and what they did (now all gone), his memories of going backstage at one of them and only then realising he wanted to act, which in turn led to acting at School. He told how plays were produced every term at the School's theatre, Hopefield, and how he became involved and ultimately acted in Henry V.
He reminisced over his Cambridge days where he met actors such as Miriam Margolyes and Sir Derek Jacobi and talked about how, afterwards, he began working professionally at a repertoire theatre. The audience was given a tantalising glimpse of a scene from the musical Cats, which he will perform in later this year, and he spoke about realising he was gay and how Section 28 inspired him to become an activist; telling how he eventually came out on radio while arguing against Section 28. He closed with a speech from Sir Thomas Moore, which was first performed not in Shakespeare's lifetime but in the 20th century by McKellen himself.
Headmaster Philip Britton said: 'It was wonderful to welcome Sir Ian back to give the boys a performance of some of his 80th birthday show on the Great Hall stage where he had done some of his acting as a boy. His obvious sense of fun, his acknowledgement of how teachers had indulged and nurtured his passion for acting and the sense of gratefulness for opportunity was brilliant to see. It was an amazing experience for the boys at the end of their exam week!
In the Q&A we learned he was in Blackburn House when at school, who would have thought he would remember after 60 years, his favourite subject was Geography and he wished he had been better at Maths and Science. And we started a debate on whether Gandalf or Magneto would win a contest!
'Before the afternoon show Sir Ian had been guest of honour at a birthday lunch in school where 30 of his 80 year-old classmates had gathered to wish him well and remember old times. As Sir Ian said: "It is a party for us all." The school had first had the idea of inviting classmates and we were delighted by how many were able to travel – some coming from as far afield as Scotland and France.
'Later on Friday it was a real privilege that the School Arts Centre, used to catering for dinners and weddings, had been selected as the venue for Sir Ian's surprise 80th birthday party. The stellar list of guests genuinely surprised him and he had a wonderful evening. Some boys from school and some younger Old Boys involved in acting put on a short show of his acting life at school, receiving a standing ovation from the A list acting audience.'
The celebrity guest list at the School's Arts Centre included actors Dame Judi Dench, Sir Derek Jacobi, Richard Wilson, Timothy West and Luke Evans as well as journalist Janet Street-Porter, pop star Neil Tennant and writer Armistead Maupin. They spent generous amounts of time sharing their wisdom with the boys, who had received a standing ovation (watch online), after they performed.
Luke Evans tweeted: 'Last night in Bolton, we got to surprise this incredible man for his 80th birthday. A magical night, full of laughter, tears and a bit of singing too! Happy birthday to you @IanMcKellen You are my Hero! You do so much for so many, you make me proud to call you a friend!'
There were happy birthday video messages from Sir Anthony Hopkins, Dame Maggie Smith, Sir Patrick Stewart and Sir Elton John and actor Hugh Jackman, along with 15,000 fans, sang 'Happy Birthday' to Sir Ian live from his opening night at Manchester Arena, which you can watch online.
In an interview with The Bolton News, Sir Ian said: 'All these people who gathered yesterday at Bolton School and gave me the fright of my life, I did not know any of them were coming, it was the most wonderful day.'
On Saturday evening he was 'back on the road' although he did not have to travel too far, performing at Bolton's Albert Halls.
The Bolton News reported on Sir Ian's special homecoming to celebrate his landmark birthday online.
You can read a recent article in The Guardian online where fellow thespians talk about Sir Ian.
Sir Ian is currently half way through his national tour, which coincides with him becoming 80, called 'Ian McKellen on Stage: Tolkien, Shakespeare and You!' As a boy growing up in Lancashire, he was always grateful to companies that toured beyond London and Sir Ian has always enjoyed 'repaying that debt' by performing in theatres across the country.
---
---
You may also be interested in...